PABLO WEISZ-CARRINGTON
|
home




BIOGRAPHY

"...my passion for drawing has accompanied me ever since I can remember, and I have been surrounded by imagery produced by the magical brushes of my mother, Leonora Carrington..."

My paintings to the subconscious, but only those who allow this ly understand them
Pablo Weisz-Carrington was born in Mexico City, Mexico on November 14, 1947.
Son of the famous Hungarian photographer Emeric Weisz and the famous world-renowned British surrealist painter
Leonora Carrington
. His parents surrounded themselves with a group of other European artists which were also refugees from the World War II. Pablo grew up among André Breton, Remedios Varo, Jose and Kathy Horna and Benjamin Peret, many other artists natives of Mexico such as Diego Rivera, Frida Kahlo, Juan Soriano, writers such as Octavio Paz, Juan Rulfo and Carlos Fuentes were also close to the Weisz-Carrington family, creating and ambiance that made Pablo become an artist. Pablo lived in Mexico City until he was 25 years old.
At age 14, Pablo had his first art exhibition of drawings at the Gallery of Juan de Dios Moreno. In 1969 several drawings of his were published in the literary magazine "El Rehilete", as well as in the cultural magazine of the National Autonomous University of Mexico (UNAM). At age 24 he had a major exhibit of drawings and watercolors at the Israeli-Mexican Cultural Institute.
In 1972 he had his first art exhibition in the USA, at the Latin American Theater Institute of New York, event organized by Ms. Joanne Potlitzer.
Mr. Weisz-Carrington lived in New York City from 1973 to 1980.
From 1980 to 1986 he lived in Shreveport, Louisiana. In 1982 he exhibited 150 drawings at the Centenary College Cultural Center in Shreveport, LA, becoming the first opening event of the Cultural Center.
From 1986 to 1992 he lived in Chicago, Illinois. In 1989 he presented 20 drawings in pen and ink at the Venzor Gallery of Chicago.
Since 1992, he is a resident of the City of Richmond, Virginia. In November 1997, he presented an art exhibition of 50 acrylics, watercolors and drawings, as well as bronze and wood sculptures at the Main Art Gallery in Richmond, Virginia.
Mr. Weisz-Carrington travels constantly between the Unites States of America and Mexico to supervise his art work at the Galeria "El Estudio" and at the Pablo Goebel "Fine Art Gallery" in Mexico City, and also to coordinate his different art exhibitions throughout the Mexican territory.
Mr. Weisz-Carrington is fluent in English, Spanish and French languages.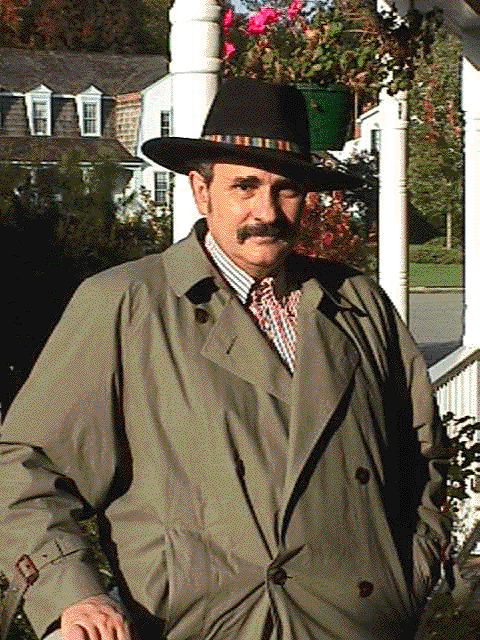 Pablo Weisz-Carrington
Photograph shown on this page has been reproduced by expressed permission of Mr. Weisz-Carrington
© Copyright 2002 - 2003 - 2004- 2005- 2006 "Pablo Weisz-Carrington:L'Enfant Terrible", all rights reserved.
© Copyright 2001 - 2002 - 2003 - 2004- 2005- 2006 De Gyves Productions, logo and all rights reserved.
WARNING
DeGyves Productions copy rights.
Federal copyright prohibits unauthorized reproduction by any means and imposes fines up to $25,000.00 USD for violation.
This material may not be duplicated for any profit-driven enterprise.
Without limiting the rights under copyright reserved above, no part of this publication may be reproduced, stored in or introduced into a retrieval system, or transmitted, in any form, or by any means (electronic, mechanical, photocopying, recording, or otherwise), without the prior written permission of both the copyright owner and the above publisher of this publication.
Any other usage violates U.S. copyright law Title 17 of the United States Code.
My passion for drawing has accompanied me ever